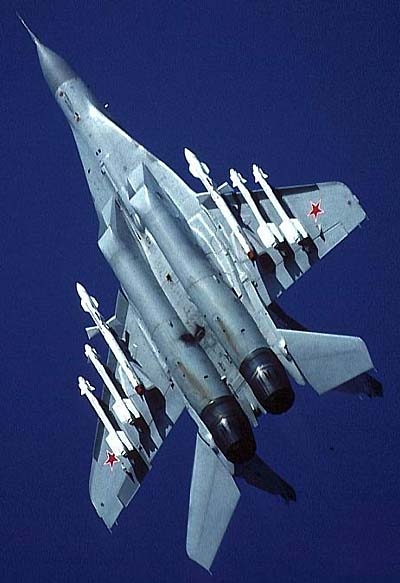 New Delhi, Oct 15 (IANS) India and Russia could ink a pact on jointly developing and producing a fifth generation fighter aircraft for their air forces during Defence Minister A.K. Antony's three-day visit to Moscow Oct 16-18.
The issue will figure prominently during the seventh meeting of the India-Russia Inter-Governmental Commission on Military Technical Cooperation (IRIGC-MTC) that will also discuss a range of issues relating to further ramping military ties, additional purchases of Russian defence hardware and cost escalations in deals that have already been inked, a senior official said.
Antony and his Russian counterpart Anatoly Serdyukov will co-chair the IRIGC-MTC meeting.
Antony's trip will set the stage for Prime Minister Manmohan Singh's visit to Moscow in November for his annual summit with Russian President Vladimir Putin. External Affairs Minister Pranab Mukherjee had visited Moscow last week.
This will be Antony's first visit to Russia and only his second abroad since assuming office a year ago. He had visited Singapore in June for a meeting of the Shangri La Dialogue regional security grouping.
'An agreement (on the fifth generation fighter) is likely to be signed during Antony's visit. Issues relating to price and intellectual property rights would be sorted out at a later stage,' the official said.
The project is tentatively priced at $8 billion (Rs.315 billion), making it the largest single military deal between the two countries.
Among the contentious issues that Antony will have to deal with are the increased prices Russia is demanding for an aircraft carrier and 40 additional Sukhoi Su-30MKI combat jets.
Admitting to 'problems' in the acquisition of the carrier Admiral Gorshkov, Antony has said: 'We are trying to sort them out.'
After protracted negotiations, India and Russia on Jan 20, 2004, signed a deal to buy the Gorshkov, along with 12 single-seat MiG-29 fighters and four twin-seat MiG-29 trainers for $1.5 billion.
Of this, approximately $800 was to be spent on upgrading and refitting the ship and $700 million on the 16 MiG-29 jets and six Kamov Ka-31 attack and reconnaissance anti-submarine helicopters.
Russia is now reportedly demanding an additional amount for the vessel and that the money be paid in euros due to the depreciation in the value of the dollar.
In the case of the combat jets, Russia has sought a hike in the 2.5 percent escalation clause that had been incorporated when the aircraft was first purchased a decade ago.
There have been a series of meetings between officials of the two countries, in New Delhi and Moscow, but no common ground has as yet been found.
Defence analysts have pointed out that given the firm stance of both sides, a way out could perhaps be found during Antony's Moscow visit.
The differences apart, Antony has repeatedly stressed that India-Russia strategic relations were 'time tested' and based on mutual trust and understanding, he said.
'We share common concern in the fight against global terrorism and in maintaining peace in our region,' he has said.
With 70 percent of the equipment of the Indian armed forces being of Russian origin, the IRIGC-MTC was established in 2000 to cover areas like interaction between the two militaries, technical cooperation, supply of defence systems, equipment upgradation, licensed and joint production and joint development and production.
The India-Russia military-technical cooperation programme that runs till 2010 covers some 200 projects worth about $18 billion, according to the Russian defence ministry.
Earlier this year, the two countries signed a protocol on co-producing a multi-role transport aircraft (MTA) that has both military and civilian applications.
They also signed an inter-governmental agreement and a general contract for the licensed production in India of the RD-33 engines that power the IAF's frontline MiG-29 fighters.
The two protocols were signed after the sixth IRIGC-MTC meeting here in January.